Charles (Chuck) Marohne, Strong Towns
Chuck Marohne, Executive Director of Strong Towns, said that the mechanisms of growth we have become accustomed to are waning. Local governments are forced to absorb the costs of new standards and requirements set by the powers that be. He argued that the current pattern of development is not sustainable without large tax increases and/or large public service cuts.
Marohne shared the photo below of his hometown of Brainerd, Minnesota in 1905.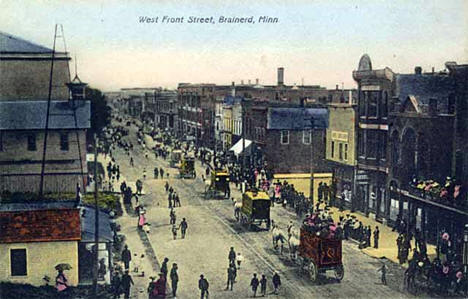 He asked rhetorically, "How thick do you think the zoning code is here? How many boards and commission did you have to go through to build here? How much was the tax subsidy?" He said that this is a time before even 30 year mortgages.
Marohne argued that if 1905's Brainerd, Minnesota wasn't financially resilient, the town wouldn't exist anymore- which it does.
However, the same street as above is now just surface parking lots and vacant commercial/light industrial buildings. There's sidewalks and wide travel lanes, but nobody is physically participating in the space anymore.
"This is why we're broke!" he said. There's half a million dollars of infrastructure on this street, and it's not getting used. "Every city is going to go broke if we continue to build places like that."
He suggested some key topics of what he calls, "The Next New Urbanism":
1. Relentlessly prove that we are the high return on investment
"Built it and they will come is a great movie plot. But, it is a terrible development strategy," said Marohne. He thinks induced development is the wrong way to go. He brought things back to Salt Lake City by telling the audience that he doesn't understand the financial side of the light rail system here, but he's not very sure how effective it is if there's an entire rail stop just for a Wendy's.
2. Champion an incremental approach
He suggested building incrementally rather than all at once.
3. Advocate for an end to top-down solutions
He suggests embracing local problem solving instead.
"Innovation from the top down tends to be orderly but dumb; innovation from the bottom up tends to be chaotic but smart."
What do you think are the most worthwhile public investments? Tell us in the comments below!
Credit: Images and references linked to sources.