Summer has arrived in Canada's Okanagan valley, and with the warmer weather, people are venturing outside to enjoy the many parks in Kelowna. Among these is Mission Creek Regional Park and Greenway, arguably the most visited park in the city. It includes an educational centre, salmon spawning channel, picnic areas, and a playground. The greenway offers a lengthy trail system that traverses through several of Kelowna's iconic landscapes.
But is its popularity with the public enough to make Mission Creek a good park?
Leading up to a conference here in Kelowna, the Association for Literature, Environment, and Culture in Canada (ALECC) poses a question on the purpose of parks. Specifically, they ask about the practice of parcelling off bits and pieces of nature into protected reserves.
Parks serve three main purposes:

The first two are easy enough. Conservation is the act of guarding or protecting something against further losses, while recreation is any sort of activity that serves to entertain or amuse.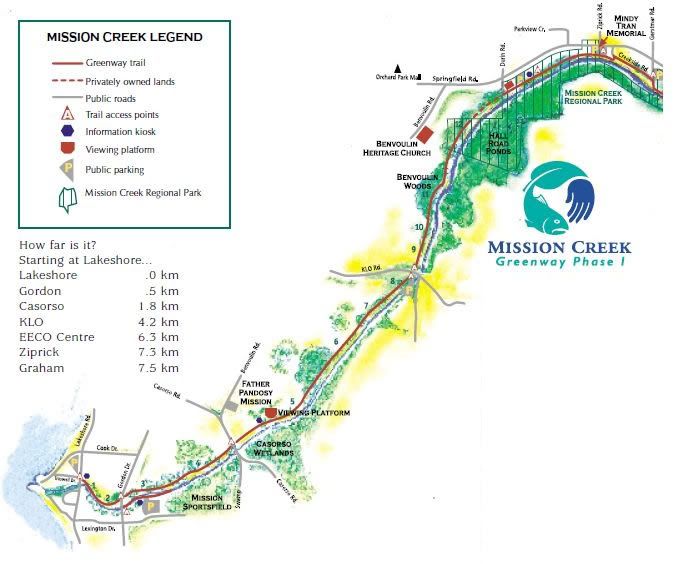 However, parks are also increasingly seen as icons, part of a local brand, if you will. New York has Central Park, London has Hyde Park, and Vancouver has Stanley Park. Other cities are known for their abundance of parks, with many branding themselves as garden cities. On a smaller scale, some developments choose to use iconic landscape design or integrated park space as a brand.
While not well known in the international realm, I would identify Kelowna's Mission Creek Regional Park and Greenway as a city icon, and a beautiful example of both conservation and recreation as well. As mentioned before, the various hiking trails stitch together Kelowna's unique landscape: beginning at the lakeshore, it moves through a lush forest alongside ancient salmon spawning grounds, and up into the rugged hills and canyons to end with Mission Creek Falls.
Do you agree that the basic purpose of a park is to conserve nature, provide recreation, and act as an icon? Does your city have a park that fits into (or doesn't fit!) my definition?
Credits: Images and data linked to sources.