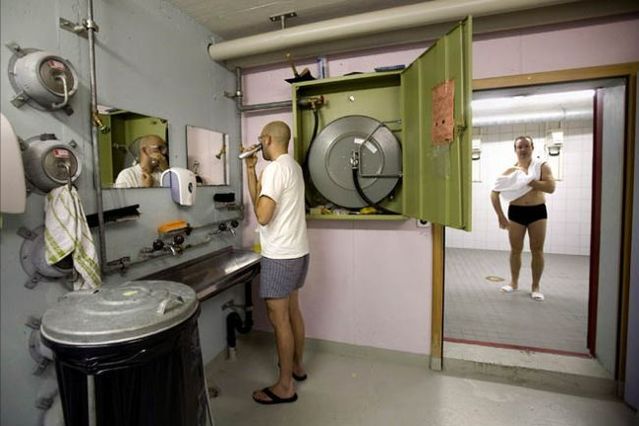 The Cold War could be described as the golden age of the bomb shelter. Fears of nuclear and chemical warfare caused many governments and individuals around the world to construct fortified bunkers. Urban planning anticipated massive bombing campaigns by fortifying schools and underground tunnels. This is one of the more utilitarian examples or architecture Global Site Plans has featured. As the perceived threat of nuclear war abated, many shelters were neglected and forgotten. What happened to these shelters, and how are they being used today?
The Null Stern Hotel in Teufen, Switzerland started out as an interactive art exhibit and where visitors would stay in a bomb shelter converted to a "hotel." The project was so successful with so many requests from potential guests that the Swiss shelter stayed open for a full year as an actual hotel before being turned into a museum. The Null Stern Founders (Frank Riklin, Patrik Riklin, and Daniel Charbonnier) are now working towards expanding their original idea in other undisclosed new urban locations.
Some bomb shelters still serve somewhat of their original purpose. The Swedish internet provider, Bahnhof, was looking for a secure area for their data center and offices. They found their newest location in a retrofitted bunker located thirty meters under solid granite outside of Stockholm. The designing architects counteracted the claustrophobic effects of shelter living with simulated sunlight, waterfalls, and vegetation.
Architect Rainer Mielke is famous for renovating Germany's many neglected bunkers. Current German law prohibits internal renovation of bunkers in case they ever need to be used for their original purpose, so most of Mielke's projects use the massive concrete structures as foundations for new additions. A similar project by Index Archtekten turned a Frankfurt bunker into artist studios and a school. The studios sit in a wooden addition built on the roof of the original concrete structure.
From bars to hotels, inventive designers are taking the forgotten relics of the cold war and re-purposing them for an eccentric and diverse clientele.What other creative re-purposing have you encountered?
Having attended an American public school and seeing for myself the black and yellow bomb shelter signs, have you ever been in a fallout shelter?
Credits: Images and data linked to sources.