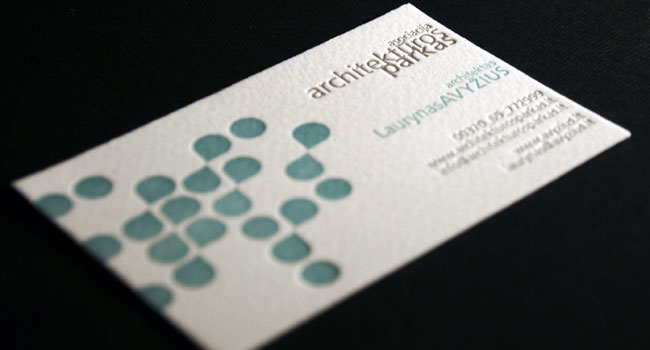 While social media is changing the way designers collaborate and connect, face-to-face networking is still an important step in gaining industry distinction. At roughly 3.5 inches by 2 inches, business cards carry significant influence in this networking process. As designers, urban planners are expected to make a statement with their business cards. What kind of statement are you making?
1. Contact
At minimum, business cards should contain name, company, and one to three methods of contact. How you display that information is a matter of choice.
2. Typescript
What are you trying to communication with your chosen font? Look for something that compliments your company logo and remember to balance personality with legibility. It's usually wise to pick a serif or sans-serif font, and spend more time thinking about placement and point size.
3. Graphics
Creating a winning name and suitable logo isn't easy, but it is an essential component of branding. Using graphics on a business card can make things busy; play with scale, utilize transparency and layering, or consider a double-sided card. What type of image suits your firm?
City - skyline;
Environmental – natural elements;
Regional – grids;
Transportation – networks;
Urban design – materiality.
4. Colors
I recommend a close look at color theory when choosing your palette, knowing that hue and tone affect clients at an intellectual as well as a subconscious level. What qualities are you hoping to convey?
Dark red – leadership;
Red – strength;
Orange – energy;
Yellow – intellect;
Green – growth;
Blue – stability;
Purple – wisdom.
5. Technology
In order to prevent your business card from getting lost in the shuffle, consider utilizing technology from other design fields, including marketing and model building.
QR codes - Have become a popular social networking tool, especially with the increased use of smart phones. They provide your clients with a quick link to your contact information, as well as samples of your work;

Laser cutters - Using a greater ply material, such as mat board or bass wood, you can create an unforgettable custom cut out.
Careful attention to these five components of business card design will help you send a clear and cohesive message to your clients concerning who you are, what you do, and most importantly, how to reach you.
Credits: Image and data linked to the sources.