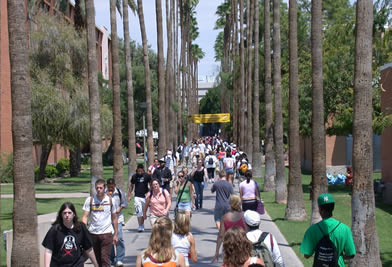 Tempe averages 211 days of sun every year. In addition, the city is only a 2-hour drive away from Mexico. This makes for a very warm, very bright place. It seems to never rain. Since I arrived 10 months ago, it has only rained twice, and heavily only once. This is why I call this hot, dry, bright place "a culture of sun."
If you haven't read my previous posts, I come from Columbus, Ohio. It is for this reason that I can and will make some comparisons: When it does "rain" everyone in Tempe panics, if it drops below 70 degrees Fahrenheit everyone wears a sweater or coat, people apologize for the weather if there is a single gray cloud in the sky. The opposite of this is the case back home. I have heard many a grunt if someone's car is coated with a layer of ice but never a panic, and certainly never, an apology. Once there was an ice storm in Columbus that blanketed the whole place in ice. Power was out for a week. This is the only time anyone was panicking about the weather.
So, imagine a place that is always sunny with a slight, warm breeze, combined with paradise nights. What kind of culture happens here? A culture of long board riding, tank top and shades wearing, would-be beachcombers. Being a new inductee into this culture, I feel myself tempted to buy a long board and maybe start wearing some shades. It could be a chicken-or-the-egg thing, but I feel the city planner designs around this culture.
It is only here where the main portion of the athletic facility is outdoors and people are usually there until midnight. Palms line the walks, smells of flowers float along the calm heated air. Wide, walkable avenues abound. Even after being here for almost a year I still see this as a place where an Ohioan would take a vacation. Perhaps, I will always see it that way.
What is your favorite sunny place? What elements designate a culture?
Credits: Images and data linked to sources.