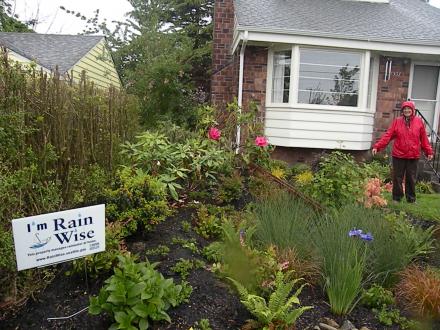 Cities across the United States are turning to property owners to help reduce the amount of stormwater runoff making its way into sewers and stormwater drains. In Seattle, Washington, the Residential RainWise Program aims to reduce the impact of stormwater running off of private impervious surfaces in the city by providing homeowners with resources and incentives to implement low-cost green infrastructure techniques to mitigate stormwater.
By appealing to property owners, the city hopes RainWise property interventions will "reduce flooding, protect property and restore … waters for people and wildlife." The program aims to encourage property owners to capture rainwater, reduce impervious surface, and "help the rain soak into the soil, just like it does in … native forests."  The RainWise Program website makes it easy for residents to find the footprint of their property and select the appropriate RainWise intervention for their property from a list of recommendations.  The city has also developed a database of licensed contractors, engineers, and landscape architects to help residents with installing interventions, such as rain gardens and cisterns that require a permit.
Currently there is a rebate program for residents based on the amount of square feet of roof runoff that is controlled by cisterns and rain gardens in select areas of the city that have combined sewer overflow issues. The city hopes to increase the area of the city that is eligible for these rebates.
As the cost of installing and maintaining traditional stormwater infrastructure, such as storm drains, continues to increase, cities like Seattle, Washington will continue to look for ways to encourage property owners to sustainably manage rainwater onsite.
What other cities are providing programs and incentives for property owners to manage stormwater on-site before it makes its way into sewers or storm drains?
Credits: Images and data linked to sources.