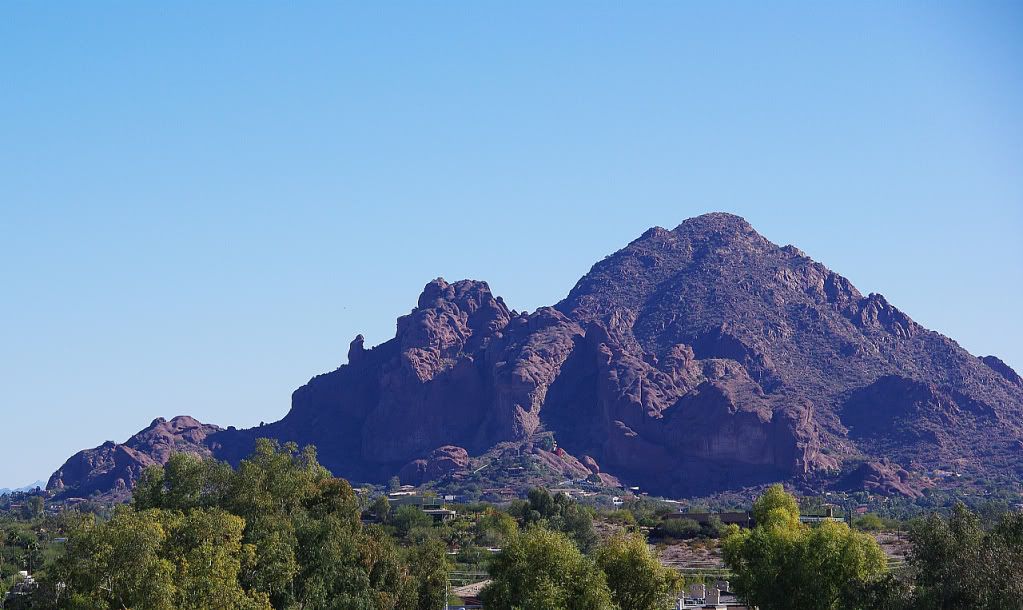 Camelback Mountain is one of the many mountain ranges surrounding what Arizonians call "the valley". The Valley is a flat area of Arizona desert that is home to 4 million of the state's 6 million inhabitants. The valley includes Phoenix, Tempe, Mesa, Scottsdale, Paradise Valley and Chandler, among others that, together, make up a sprawling metropolis.
The Camelback Mountain Range is named such because it resembles a camel's back. It is where many, including myself, go to hike, to enjoy the weather, and to socialize. It is a great escape from the 9 to 5 grind, provides exercise, and best of all, it provides fun. Where there is fun, there is bonding, where there is bonding there are relationships, and where there are relationships there is culture.
The best part of this type of natural landscape, from a city planning perspective, is that only minimal improvements need to be made and it will naturally be an attraction.  Using the landscape to its best attributes and advantages are the keys to good design. As the old adage goes, "if you got it, flaunt it." Matter of fact, it is of utmost importance to flaunt what you got and then use it to brand the place that you live. It can then be used to unite the inhabitants. A local will tell a tourist, "You have to climb camelback, it is an exhilarating experience."
Having lived in the valley for over a year, I can attest to the fact that Camelback Mountain is certainly a
conversation piece. Most likely because it is everything mentioned earlier and it is extremely visible.
Another cultural generator that I took place in this weekend was a float down the Salt River. The Salt River is a natural lazy river Northeast of Tempe. Twenty friends and I all got tubes and tubed lazily down the river together. For five-hours you float, with thousands of other men, women, but mostly college coeds. Everyone talks, have a few laughs, and all-in-all relate because they have this activity in common. It is a de facto cultural wellspring. Even though I lost my glasses and hat to the river, it is something that I am definitely going to participate in again.
Why is it important for a city to flaunt what it's got?
Credits: Data and Images linked to sources.