In a previous blog, I wrote about the car-free suburb in Vauban, Germany. However, whether by intentional design or chance circumstances, quite a few other cities around the world continue to operate without automobile usage. Here is a selection of some of the more idiosyncratic car-free towns and cities around the world.
Supai, Arizona is regarded by many as one of the most remote towns in the United States. Located in some of the most daunting terrain the Grand Canyon has to offer, people wishing to visit must hike, helicopter, or ride pack animals in. Due to the town's isolation there are no vehicles, including emergency vehicles. This is also the only town in the United States to still have all its mail delivered by mule.

Fes al Bali is an ancient walled city in Morocco. With a population over 156,000, this is one of the largest car-free areas in the world. Because of the medieval urban planning, some streets are as thin as two feet wide and residents have adapted to modern life without car transport. Like other locales, cargo and transportation is accomplished with a mishmash of hand carts, animals, and bicycles.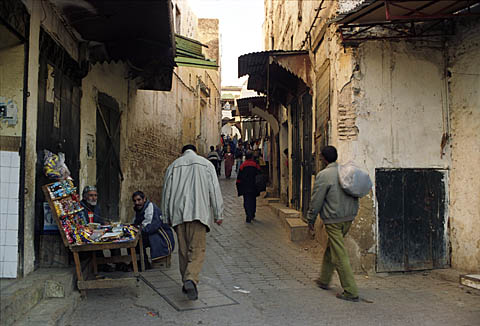 Lakewood, California, while not necessarily a car-free city, is an example of a car minimal city. It was built in the post world war two boom when most families had one car and mothers stayed home to take care of children. While times have changed the city still has its organized landscape design with grassy boulevards, extensive networks of walking paths, and almost all the homes are within a half mile of commercial centers and schools.
Halibut Cove, Alaska was originally a small fishing village and now hosts shops, artisans, and businesses serving tourists visiting Kachemak Bay State Park. The entire town is built on boardwalks connecting several small islands. Access to the town and its floating lodges and coffee shops is strictly by boat departing from a nearby town, Homer, on the mainland.
Whether by natural surroundings, urban planning, or ecological concerns, many cities opt-out of the automobile transportation that most people today regard as indispensable.
Have you ever been somewhere where cars are not the primary form of transport?