Bogota, Curitiba, and Guayaquil are very different South American cities that share something in common: they have the most successful and longest-running BRT systems in the world. BRT stands for Bus Rapid Transit, which is an innovative, low-cost model for making buses run more like express subways. It combines the speed and reliability of fixed-rail transit systems with the flexibility of buses to create a sustainable and efficient mass transit option. To ensure its effectiveness, BRT usually features dedicated bus lanes, traffic signal priority, and a pre-boarding payment system.
Over the past several years, urban planners and engineers in New York City have begun implementing BRT corridors in four of the five boroughs – a system called Select Bus Service (SBS). Each corridor was established along the city's highest volume bus routes.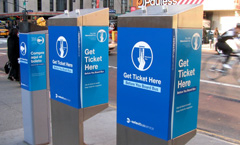 Bus Rapid Transit (BRT) offers an appealing contemporary solution to New York City's overcrowded subways and gridlocked streets. Will this transit option with humble beginnings in South America see lasting success in the Big Apple?
Credits: Images and data linked to sources.