Around the world, wind turbines have become familiar in landscape architecture. Their purpose is simple: harvesting the energy in wind and converting it into sustainable and usable power, which can provide electricity at small (home, business applications) or large (wind farms) - scales. While all wind turbines provide clean power, not all are exactly alike.
Depending on the rotation axis, there are two types of wind turbines: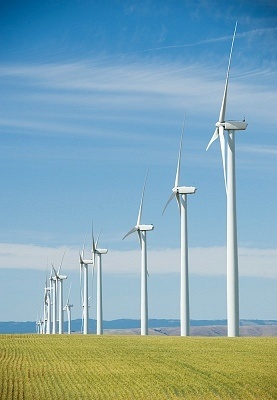 Vertical axis wind turbines           Horizontal axis wind turbines
Vertical axis wind turbines

: The blades spin parallel to the ground, so that they can operate anywhere regardless the wind direction.
Horizontal axis wind turbines: The axis of rotation is parallel to the ground. The blades are faced in the direction of the wind and spin around a horizontal axis when pushed by the wind. Thus, the turbine can convert the wind's kinetic energy into electrical energy. We are much more familiar with these wind turbines.
The horizontal axis design wind turbine is more effective: engineers placed the wind turbine on the top of the tower, hence, it receives more power for rotation producing lots of electrical power. Additionally, since the land area taken up is small, it is ideal for large-scale power generation (e.g. wind farms).
Conventional wind turbines start from 700-850 kW to 2 MW (The term kW or MW means the amount of Wattio produced in one hour). At present, engineers are developing 4.5 MW and larger wind turbines, which are mostly found offshore. Here is estimated data of the dimensions of some wind turbines.
| | | |
| --- | --- | --- |
| Available power | Rotor size (m) | Tower length (m) |
| 700kW | 50 | 50 |
| 2MW | 90 | 90 |
| 4,5 MW | 120 | 120 |
In short, not all the wind turbines are the same. Will you be able to find a difference next time you see two turbines?
Credits: Images and data linked to sources.