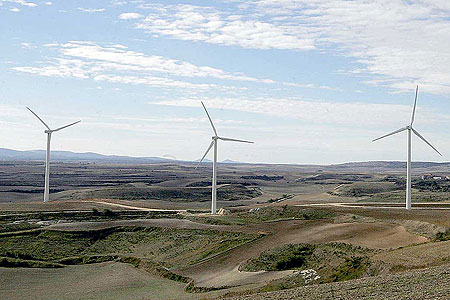 A wind farm is a collection of wind turbines placed one next to another. As it was explained in the blog entitled 'An Introduction to Wind Turbines: Rotation Axis, Power, Rotors, and Towers,' they are used to generate electrical power when pushed by the wind. Both in Europe and the United States there are large numbers of wind farms. However, in Asia, China, and India are the countries with the greatest capacity for wind farm production. In Spain, there are 894 wind farms, which make a total of 21674MW installed.
On-shore wind farm in Burgos, Spain
1. Where are wind farms located?
They must be located on large tracks of land or along coastlines to capture the greatest wind movement. Similarly to onshore and offshore wind turbines, there are onshore and offshore wind farms. Devoting those areas to wind power generation may go against other interests, such as agriculture, urban planning or seaside views.
2. How do wind farms work?
The electricity created in the generator of the wind turbine passes through transformers and a transmission line into electricity distributor and supplier. The supplier delivers electricity to the final consumer (homes, industries, and more …)
3. What are wind farms made from?
The resources and processes used to manufacture a wind turbine, thus, a wind farm, are usually metal, steel, petroleum substances, etc., which may not be environmentally friendly. However, within 3-to-6 months of operation, the wind turbine has offset all the emissions for its manufacturing.
4. Are wind farms noisy?
They rank similar to daily noises.
5. Why don't wind farms turn even if it is windy?
When there are strong winds, engineers have designed the turbine to stop to prevent the wind turbine from over speeding and protect the generator.
Have you ever seen a wind farm up close? If not, now's your chance.
Credits: Images, data and video linked to sources.