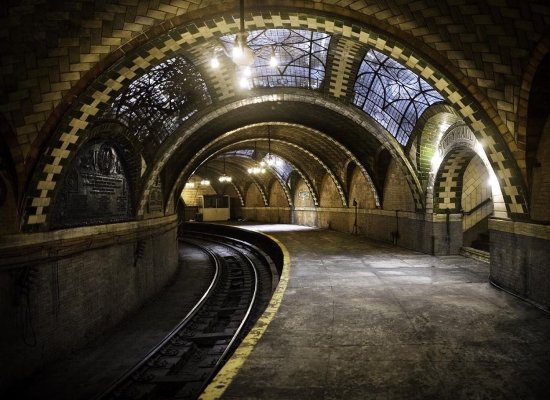 In Germany, during the cold war, the concept of the "ghost" station developed as a solution to a curious urban planning quagmire. As travel with Berlin became more restricted, the combined Berlin subway lines, referred to as the U-Bahn and S-Bahn, underneath the city had to be divided between east and west. In doing this some train stations were sealed off from commuters, becoming time capsules viewable only from within the trains rushing by.
In Berlin the subway division occurred in a number of ways. Some lines fell completely within one side of the city or another, making the division a non-issue. Other lines running through both halves of the city had two trains, one for the east one for the west, that stopped at their respective borders. There were however several lines running through primarily West Berlin that traveled through several sections of East Berlin. The stations in almost all of East Berlin, which were connected to western lines, were closed down. As the trains passed by western commuters, they saw the dimly lit, heavily guarded stops, and christened them "ghost stations." After the fall of the Berlin Wall in November 1989, passengers streamed into the crumbling ghost stations which where unchanged since they had been sealed in 1961.
Germany is by no means the only location where subway stops have been sealed from commuters. New York City's City Hall Station is a masterpiece of art deco architecture. Envisioned as an underground Grand Central Station, the stops feature intricate tile work, wrought iron, and an elegant arched ceiling. The station was quickly made obsolete by the longer subway car introduced to hold more passengers and the stop was closed in 1945. Though the station is closed to the public, riders can still view the stop by riding the Number 6 train all the way to the end where it turns around in view of the station.
While rarely seen, ghost stations are actually present in many of the transportation networks around the world. From Cincinatti to Paris, urban planners have been forced to modify networks that have been rendered obsolete for one reason or another.

Do you want to see your own ghost station? How close is the nearest subway stop?
Credits: Images and data linked to sources.